Exiting bankruptcy, GM promises transformation
CEO Fritz Henderson says the new GM will be lean and consumer-friendly.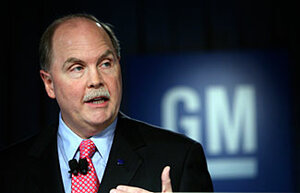 Carlos Osorio/AP
In its first day out of bankruptcy Friday, General Motors said it plans to change its stripes.
The new company, according to GM chief executive Frederick "Fritz" Henderson, will be leaner, produce more competitive vehicles, and act faster to respond to a changing marketplace. With much of its debt and legacy healthcare costs now reduced, Mr. Henderson said he expects the company will be profitable in 2010.
GM's goal is to repay the US government before its loans are due in 2015, he said at a news conference in Detroit.
Quick journey through bankruptcy
The automaker's emergence from bankruptcy came much sooner than even the company expected. Henderson said he wants to use the momentum to improve the Detroit company.
"Starting today, we want to take that intensity, the decisiveness, and the speed of the last several weeks and then transfer it from the battlefield triage of the bankruptcy process to the day-to-day operations of the new company," he said.
As an example of how the company intends to be more adaptable, Henderson said it will begin an experiment in California to allow potential customers to buy vehicles through eBay, the online auction service. Consumers will be able to bid for vehicles and even choose a "pre-determined buy-it-now price."
However, in an indication of the unplanned nature of the new adaptability, Henderson could give reporters no additional details of the experiment. "We'll see if it works," he said.
A 'new' emphasis?
---