Minimum wage goes up. Do workers care?
Most hourly workers already earn more than the minimum, but some say the new rate of $7.25 an hour will be a modest boost to those earning the least.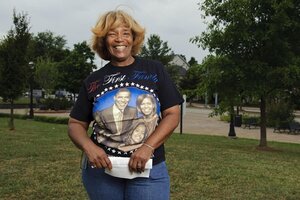 AP Photo/Paul Abell
In some border towns in Texas, half the workforce makes the minimum wage. So those workers got a raise on Friday when the federal minimum wage was hiked 70 cents to $7.25 an hour. They'll be shouting, "Olé!"
But in 27 other states, the state minimum wage is already higher than $7.25 an hour. In fact, of the 130 million US workers, only 60 percent are paid an hourly rate. And the national hourly salary is $18.50 an hour. Most of those workers are wondering: What's the big deal?
According to the Economic Policy Institute (EPI), the minimum-wage increase means that some 4.5 million workers get raises collectively worth $1.6 billion annually. However, economist John Canally of LPL Financial in Boston, using Department of Labor statistics, thinks the impact will be far smaller: Only 300,000 workers, he says, are paid at minimum wage, and 1.9 million are paid less than the minimum (but they may get tips that raise the total remuneration above the minimum).
"It's not a big deal," Mr. Canally declares.
Still, Kai Filion, a policy analyst at the EPI, says the change is "a step in the right direction" and will result in some people earning an extra $28 more per week.
"It certainly will not buy a car, but it's helpful," he says. "It doesn't raise people out of the poverty threshold."
---