New MBAs vow accountability
Business school graduates pledge to practice social, economic, and environmental ethics in their careers.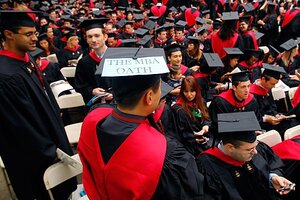 Brian Snyder/Reuters
As they approached graduation, some Harvard Business School students had a simple goal: Find 100 classmates willing to put their names to an "MBA oath." They would pledge to "act with utmost integrity" and to "strive to create sustainable economic, social, and environmental prosperity worldwide."
The oath took off – not just at Harvard University in Cambridge, Mass., but around the world. (Read the full oath here.) By the June 4 commencement, more than half of the nearly 900 Harvard MBA graduates had signed on. By late July, the total had since risen to 1,427 students and alumni from scores of business schools, ranging from the University of Alabama to Singapore Management University.
In the wake of the financial meltdown, the MBA degree has lost its swagger. But these students hope to rescue its reputation and quell the public's wrath. Their efforts are part of a broader
effort to professionalize management by setting higher standards, akin to those agreed upon by doctors and lawyers.
"It was kind of just the perfect storm of people really yearning for this and thinking, 'I'm absolutely willing to stand by these principles,' " says Teal Carlock, a recent Harvard MBA graduate who helped draft the oath. His peers are eager to go public with their values, he says, to counter the perception that all business people operate with a "greed is good" philosophy.
---