Were speculators behind last year's oil-price spike?
Investors flood commodity markets even though they know little about oil or wheat. Is more regulation the answer?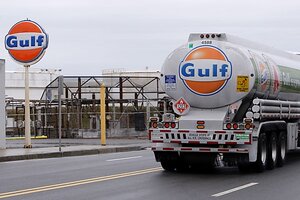 Charles Krupa/AP
The top regulator for US commodity markets says oil prices have spun out of control – and that it's time to consider putting a cap on speculative trading activity.
That message, given in a Tuesday regulatory hearing, comes at a time of renewed debate over whether last year's spike in oil prices was a bubble built mainly on speculative frenzy. Soaring oil prices took a harsh toll on consumers worldwide at a time when the economy was already reeling from a bust in housing and credit markets.
Blaming it on speculators remains controversial. And even if last year's petroleum run-up was a needless bubble, there's also controversy over how policymakers should respond.
But commodity markets have entered a new phase in recent years, with many investors flooding in who have little close knowledge of oil or wheat. Commodities have become an increasingly popular "asset class" alongside stocks and bonds. New financial products have aided the process by making it easier to invest in oil futures than to get an oil change.
The US Commodity Futures Trading Commission is weighing how to best promote healthy markets for commodity contracts.
"Speculators who do not necessarily grow the wheat or store the oil provide necessary liquidity by being on the other side of the trade with the farmer and the oil producer," Gary Gensler, the CFTC's chairman, said in an opening statement Tuesday. But "Congress long ago recognized that there may be burdens to the economy when the market becomes too concentrated."
---