Contractors say stimulus has been slow to kick in
Construction is one of the industries most affected by the stimulus. Executives say the package has saved some jobs, but it hasn't expanded payrolls.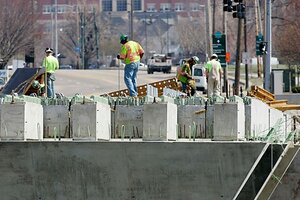 Mark Duncan/AP/File
Much of the $787 billion in a federal program to spur the economy was supposed to pour like mixed concrete onto American roads, bridges, and construction sites. So far, though, the amount of money funneling into US construction zones is less than expected.
This doesn't mean that President Obama's giant economic stimulus is failing altogether. But construction industry executives told reporters Thursday that the law is falling short of its potential to boost spending on infrastructure and create jobs.
"It is disappointing to see so many of these programs getting off to such a slow start," said Stephen Sandherr, chief executive of the Associated General Contractors of America.
Transportation-related projects are faring relatively well, he said. But in other areas, the flow of money is a trickle so far. Mr. Sandherr cited examples from several large federal agencies:
The American Recovery and Reinvestment Act provides $4.6 billion for the US Army Corps of Engineers, but the Corps has spent just $84 million of that so far.
Just $12 million has been paid out for improving federal buildings, out of nearly $6 billion allocated for the General Services Administration.
The Environmental Protection Agency has paid out only about $30 million – out of $6 billion available – for drinking water and other clean water programs.
Judging by a survey within the trade association, Sandherr says, relatively few new jobs are being created by the stimulus.
---