The real reason for Obama's $2.4 billion electric car grants
More than half of the money goes to battery manufacturing. US-made hybrids are currently dependent on batteries made abroad.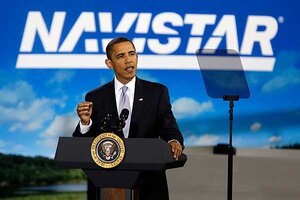 Michael Conroy/AP
Want to know why the Obama administration's announcement of $2.4 billion in electric vehicle grants could be very important? It's simple: The commitment show that Washington may be getting serious about keeping batteries from becoming the new oil.
Right now, overseas manufacturers, primarily in Asia, are the world leaders in the mass production of advanced vehicle batteries. Even US-made hybrids such as the Ford Fusion have a foreign battery at their core.
But the White House and many lawmakers in Congress say they don't want to swap reliance on Saudi oil for reliance on South Korean batteries as part of the nation's green energy future. Thus the administration has steered $1.5 billion of the $2.4 billion in electric technology development funds to battery manufacturing projects.
"I don't want to have to import a hybrid car," said President Obama at an appearance in Warakusa, Ind., Wednesday. "I want to build a hybrid car here."
If you think the comparison between oil and batteries is overblown, consider that IHS Global Insight predicts that by 2020 some 47 percent of the vehicles sold in the US will have some kind of battery power at their core, either coupled with small sparked engines in hybrids, or alone in full electric cars and trucks.
"More research and more development of batteries is urgent and critical," says Dan Sperling, director of the Institute of Transportation Studies at the University of California, Davis. "Advanced batteries of different sizes and shapes will be in every car of the future."
---