Unemployment rate eases to 9.4 percent
Job losses for July totaled 247,000 – the lowest level since August of last year.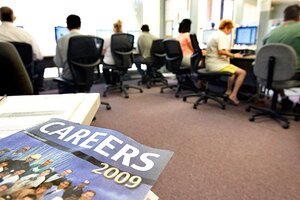 Don Ryan/AP/File
Finally, there is better news for the economy.
In a surprise to most economists, America's unemployment rate dropped in July – to 9.4 percent from 9.5 percent in June. Also, employers axed 247,000 workers, the lowest level since August of last year.
The numbers, released Friday by the Labor Department, probably indicate that the US economy is moving out of the longest recession in post-World War II history, economists say. They caution that the unemployment rate may nudge higher in future reports, but still, the current shift in layoffs is good news.
"Obviously, losing 247,000 jobs is nothing to celebrate, but in the context of the year as a whole, an improving trend is under way," says Richard DeKaser of Woodley Park Research, an economic consultancy in Washington. "We appear to be transitioning from recession to recovery."
In June the economy shed 443,000 jobs.
Although most sectors of the economy continued to lose jobs last month, there were fewer layoffs than in previous months in manufacturing, construction, financial services, and professional services. Leisure and hospitality actually posted job gains.
Moreover, it appears that businesses are beginning to give workers longer shifts: The number of hours worked improved compared with June. Employers also increased wages slightly.
---