Despite TARP billions, bank prospects are iffy, panel finds
There's been progress, but 'toxic assets' remain on the books of many small banks, which have been failing at a rising rate.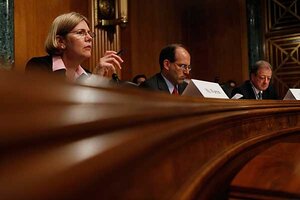 Gerald Herbert/AP/File
The financial crisis isn't over. It's just in a wait-and-see phase.
That was the broad message Tuesday as an oversight panel issued its latest report card on government rescue programs.
For one thing, billions of dollars in so-called toxic assets still reside on bank balance sheets. These are loans that are likely to default or are so complex that it's hard for banks to sell them. The Congress-created panel said significant problems will remain as long as these loans create uncertainty about future losses. Banks will be less likely to lend, investors will provide less money to credit markets, and the risk of a renewed flare-up of credit distress will linger.
"The problem of troubled assets is especially serious for the balance sheets of small banks," the Congressional Oversight Panel added in its report. One reason is that these banks "hold greater concentrations of commercial real estate loans, which pose a potential threat of high defaults."
The review comes as small-bank failures have been occurring at a rising pace. The Federal Deposit Insurance Corp. announced two dozen bank failures in July, the most of any month since the credit crisis began. It also comes as the government is finally launching a scaled-down version of its plan, announced in the spring, to aid banks by purchasing toxic assets.
A program in which the FDIC would finance the purchase of individual loans is now on hold, while the Treasury is moving to buy some debt securities (bundled loans) along with private partners.
The view expressed by the five-member panel, chaired by Harvard University finance expert Elizabeth Warren, runs counter to a prevailing sense in financial markets that the credit crisis is easing.
Financial stocks have steadily risen to double their value in March, and other indicators of credit-market stress have eased. It's not that people are ignoring the bad loans and the prospect of continued mortgage defaults in a weak economy.
---