Why the foreclosure crisis isn't improving
Rising unemployment and higher interest rates may be to blame for another record month.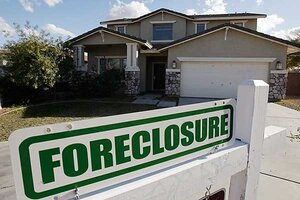 Ross D. Franklin/AP/ File
The economy may be leveling off, but a new wave of foreclosures is starting to build this summer.
Housing analysts attribute at least some of the rising level of foreclosures on the jobless rate, which now stands at 9.4 percent. But the economy alone is not to blame – a large number of adjustable-rate mortgages are coming due for higher interest rates.
In addition, with real-estate values stabilizing, some analysts think some mortgage-servicing companies think it's now more profitable to foreclose on a house than to make a loan modification. In California, the largest center of foreclosures, banks have beefed up their foreclosure departments, an indication that they expect unfortunate home losses to continue.
"We knew a second round of foreclosures would be starting this summer, and we will have to live through that," says Joel Naroff, an economist at Naroff Economic Advisors in Holland, Pa. "It's another reason to think the recovery will be slower."
In a new report Thursday, RealtyTrac, Inc., a housing-research organization, reported the number of foreclosure filings – default notices, scheduled auctions, and bank repossessions – totaled a record 360,149 in July. This represents a rise of 7 percent from June and up 32 percent from a year ago. One in 355 households received some sort of filing, either foreclosure or default, according to RealtyTrac. This was the third record in the last five months.
The rising level of foreclosures recently prompted the Obama administration to ask executives of the major mortgage servicing companies to Washington. The administration has been trying to get the banks to voluntarily do loan modifications to reflect lower home prices.
---