If global recession is over, what will recovery look like?
Tepid but sustainable, is the most common answer. Growth in Asia will be the main driver, with help from a modest revival in the US.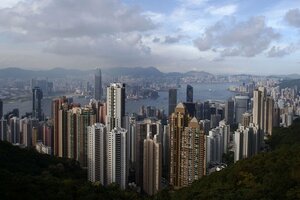 Bobby Yip/Reuters/File
The worldwide recession may have ended, judging by news on three continents this week. But a big question remains: What kind of recovery is on the way?
While many economists expect a tepid but sustainable recovery, it's a time of considerable uncertainty. Some say the rebound could be stronger than that, thanks to government stimulus and a healing of damaged credit markets. Others worry that debt-laden US consumers won't be able to regain their usual oomph – and could cause a relapse back into recession.
What's undeniable is that some welcome signs of economic life have emerged recently around the world. Some forecasters say the recession is already over, although it will take some time to confirm this assessment.
Asia leading the way
• In Asia, China's industrial output and retail sales posted gains for July, confirming that Beijing's stimulus efforts are gaining traction. That report, early in the week, was punctuated Friday by news that China's Hong Kong territory shifted from recession to growth in the second quarter of the year. India also posted a surprise jump in industrial production this week.
---