A tougher stance on tax havens
Wednesday's US-Swiss deal is the latest step in an international crackdown on tax evaders.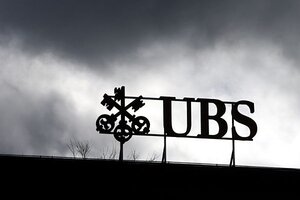 Alessandro Della Bella/Keystone/AP/File)
A decades-long tolerance of the 90 or so tax havens around the world is giving way to a tougher resolve among major industrial nations to crack down on tax evaders.
The latest move: a new US-Swiss deal, made public Wednesday, to provide the Internal Revenue Service with information on some 4,450 suspect UBS accounts that at one time held a total of $18 billion. (Click here for details in a story by a Monitor contributor by the same name.)
Abroad, Britain, Germany, and France also have been taking a tougher stance against tax havens. Britain, for instance, has been trying to pry open some 5,000 accounts in Liechtenstein owned by British investors with an estimated total of at least $3.3 billion. When the G-20 major industrial nations declared in April that "the era of banking secrecy is over," they may actually have meant it.
"We hope this momentum will continue," says Raymond Baker, director of Global Financial Integrity, a Washington nonprofit group that strives to curtail the massive crossborder flow of illegal money.
---