ECONOMIC SCENE: US begins crackdown on CEO pay. Will it work?
In 1965, CEOs of major US firms made 24 times an average worker's pay. By 2004, that ratio was 431 times.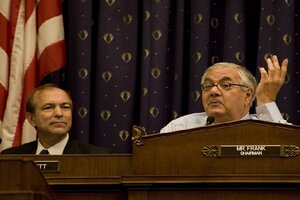 Ryan Kelly/Congressional Quarterly/Newscom
The letter writer got to the point: "I never have encountered anything as outrageous and questionable as your policy of giving million-dollar-a-year bonuses to employees who are skilled financial traders.... Cannot something be done to correct this really shameful situation?"
The letter was addressed to James Dimon, chief executive of JPMorgan Chase. But a similar one could easily have been sent to other major bankers who played a role in last year's financial debacle. It sums up many Americans' bewilderment – and their anger, often – over the extraordinary bonuses paid to top executives while their companies got federal bailouts.
Now, key players in Congress are taking on corporations over the issue.
"If in good times you were told you weren't going to get a bonus, what part of your job would you not do?" Rep. Barney Frank, chairman of the House Financial Services Committee, asked financial executives at a recent hearing. "Would you, like, leave early on Wednesday?... Why do you need to be bribed to have your interests aligned with the people who are paying your salary?"
The word "bribe" caught the attention of some conservative bloggers. One defended the huge sums as "a carrot."
---
Follow Stories Like This
Get the Monitor stories you care about delivered to your inbox.