A year after Lehman collapse, signs US recovery has begun
President Obama delivers a major economic speech Monday to assess progress in the year since Lehman Brothers' collapse ignited a financial crisis.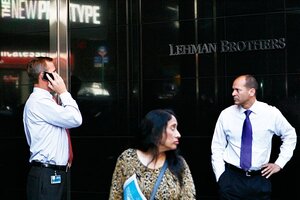 Shannon Stapleton/Reuters/File
A pillar of Wall Street, Lehman Brothers, failed a year ago, setting off a financial firestorm that nearly drove the world back into a 1930s-style Great Depression. On Monday President Obama will assess for the public where America stands post-Lehman – and what remains to be done.
His speech will be watched closely because, so far, Mr. Obama has refrained from positive pronouncements about the economy. Now, with economic green shoots becoming more apparent, the president has the opportunity to begin to shift.
"He will say things are not as bad as they were, but I don't know if he will admit how good they are," says Bob Brusca, economist of Fact & Opinion Economics in New York. "He's having a hard time giving people hope."
How good are they?
Most economists say the recession ended in June, if not in May. The third quarter (July through September) is expected to show moderate growth. The consensus forecast is for a gain of 2.5 percent to 3 percent in the nation's gross domestic product (GDP).
But some economists are now beginning to think that's too low.
"The third quarter is a slam dunk above 3 percent," says John Canally, an economist for LPL Financial in Boston. "It could be as high as 4 percent."
---