Is the bull market back?
The stock market is roaring again and consumers are starting to feel better. One problem: they're still not ready to spend.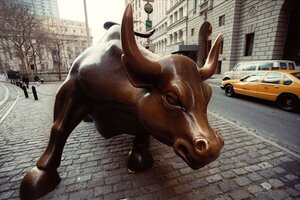 MELANIE STETSON FREEMAN / CSM
Call it America's stealth bull market.
Although many Americans are not aware of it, the stock market has been roaring since March.
The Standard & Poor's (S&P) 500 index is up 58 percent from the lows of spring. And, for the year, the average is up almost 18 percent. According to Morningstar, a Chicago-based financial research company, the average domestic stock mutual fund is up 26.83 percent this year. And this week, according to the Federal Reserve, household net worth rose by $2 trillion in the second quarter, after falling for the prior seven quarters.
Snort! Snort! Snort!
Feeling better?
The good news on Wall Street is starting to slowly resonate on Main Street. The Gallup Organization asks consumers every night how they are feeling. "Our measures of consumer confidence are picking up, especially among upper-income people," says Dennis Jacobe, chief economist for Gallup.
The readings are now as high as their best level in 2008.
---