G20 summit: three big agenda items for world leaders
Topping the G-20 'to do' list is to settle on any additional economic stimulus – and whether to rein in banker bonuses. Global warming is on the table, too.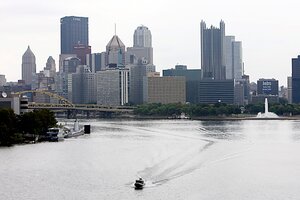 Matt Rourke/AP
President Obama hosts his first summit of world leaders starting Thursday, a gathering of the G-20 nations that, for the most part, are just starting to recover from the worst economic cataclysm since the Great Depression. Now they must decide whether to keep interceding, by pouring more government money into their respective economies, or whether to back off that strategy.
Other big issues will be on the table, too, when leaders of the so-called Group of 20 banter around the table at the "environmentally correct" David L. Lawrence Convention Center here. Among them are global warming and, maybe, ways to keep bankers from making titanic amounts of money by taking extraordinary risks with the financial system.
Expectations are mixed for what these leaders, whose nations represent 90 percent of the world's economy, can actually achieve by the end of Friday. Some analysts anticipate they will reach agreements or at least concur on to a road map to solve global problems. Others, though, say the group's diversity and the leaders' different agendas may result in only an airing of the issues, but few solutions.
"On the one hand, it brings together all the major players – you need China, India, Brazil, and Indonesia. But on the other hand, their interests are more diverse, so it's harder to reach agreement," says John Duffield, a political scientist at Georgia State University in Atlanta. "But any agreement they reach will be more meaningful."
---