Existing home sales fall unexpectedly
One possible reason for home sales' decline is a rising backlog of applications, the National Association of Realtors said.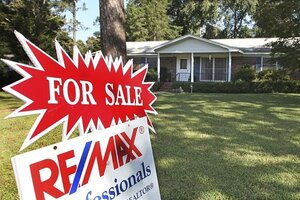 Phil Coale/AP
Sales of existing homes fell unexpectedly in August, after strong gains in July. Annualized sales totaled 5.1 million homes for August, down 2.7 percent from July but still 3.4 percent ahead of the level a year ago.
The median sales price of existing homes also declined from $181,500 in July to $177,700 in August, according to a National Association of Realtors (NAR) report released Thursday.
In a more encouraging sign, the inventory of unsold homes fell to its lowest level in more than a year with 8.5 months of supply on the market. The level had been as high as 11 months late last year.
One potential factor behind the disappointing sales figures may be the pending expiration of a tax credit for first-time homebuyers. A rising number of buyers are signing contracts, clogging the system and helping to lengthen the closing process, NAR economist Lawrence Yun said in a release. "But the decline demonstrates we can't take a housing rebound for granted."
Outside analysts downplayed the one-month decline. "We suspect it is just a temporary blip in the improving trend rather than a sign of renewed weakness," wrote Paul Dales, an economist at Capital Economics, in an analysis.
This year's housing recovery has been fueled by low mortgage rates and falling home prices. One of the big uncertainties hanging over the market is what happens once the tax credit expires Nov. 30.
---