US job losses worse than expected, unemployment now 9.8 percent
Job losses in September amounted to 263,000 – 83,000 more than expected – pushing the unemployment rate up.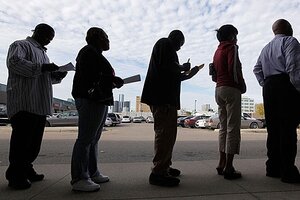 Paul Sancya/AP
In a disappointing report, termed a "wake-up call" for the economy by some commentators, the Labor Department reports employers last month continued to shed jobs at a higher pace than expected.
In September, the Labor Department reported Friday that the economy lost a net total of 263,000 jobs, up from a downwardly revised 201,000 in August. Wall Street had been expecting a loss of 180,000 jobs, according to a survey by Thomson Reuters. The unemployment rate inched up to 9.8 percent from 9.7 percent.
"I don't think it throws off the track of recovery, but it does suggest a lot of serious headwinds at this point," says Scott Brown, chief economist at Raymond James & Associates in St. Petersburg, Fla.
Although almost every sector in the economy showed job losses, Mr. Brown says it was surprising that the government lost jobs at a time when it normally is hiring for the school year. Government employment fell by 53,000 jobs.
According to a tally by IHS Global Insight, an economic consulting firm, state and local governments have now lost 160,000 jobs over the past four months. IHS notes that this month, 29,000 of those losses came in state and local education.
"It looks like the state budget strains are offsetting the gains from the stimulus," says Mr. Brown.
In fact, the bulk of the stimulus funds has yet to be spent. As of last week, the US had spent 21 percent of the combined tax benefits and spending increases, says Richard DeKaser of Woodley Park Research in Washington. Much of the rest "will be coming in 2010."
---