Which airports have the least delays?
Airport delays are down. Thanks to the recession, fewer people are flying. But weather and location also play a part in which airports have the most on-time flights.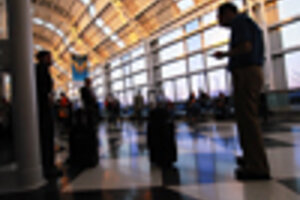 Sarah Beth Glicksteen / The Christian Science Monitor / File
This might be one of the few good things to come out of the recession: airport delays are down.
Yes, you read that correctly – even if you are sitting in an airport wondering when your flight will take off.
According a new survey by the Brookings Institution, on-time performance as of June was up 5.1 percent compared with last June. The main reason: air passenger traffic is down about 6.3 percent (measured March 2009 to March 2008). So there are fewer people boarding and deplaning (I know, not on your flights), and some airlines have cut back on their flights since they have fewer customers.
"It could be the silver lining," says Robert Puentes, a senior fellow at the Brookings Metropolitan Policy Program and coauthor of the report. "But, don't get used to it."
The best and the worst
Even though on-time performance has improved, the good news isn't universal. The worst metro-area airports to fly into and out of are:
• New York
• Melbourne, Fla.
• Atlanta.
---