Can Detroit go green?
In the race for the best green auto technology, Detroit is a slightly late entrant. But from battery innovation to re-training workers, the Motor City is going to give green a go.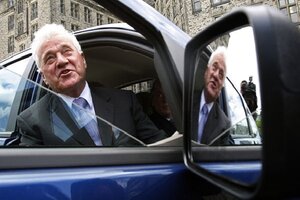 Chris Wattie/Reuters
DETROIT - Just as the auto industry was ripe for change in 1903 when Henry Ford set up Ford Motor Company in Detroit, carmakers again seem on the cusp of revolution.
Hybrid and pure electric vehicles threaten to overthrow the dynasty of the old internal-combustion engine even as proposed greenhouse-gas legislation would undermine its supremacy. China, Japan, and South Korea are hard at work creating batteries for the green cars of the future. And so is Michigan.
Having spent more than $700 million in tax incentives since 2006 to attract, retain, and grow battery companies, the state is aiming to become the "advanced battery capital of the world." There's wide agreement here on the consequences.
"We're faced with either finding new markets for those companies or losing them," says Greg Main of the Michigan Economic Development Corp. "We can't be a one-horse town any longer," said Michael Robinet of auto forecaster CSM Worldwide in Northville, Mich.
---