Foreclosures rise. Big banks show profits. How can that be?
The bailouts helped the banks, but they're also benefiting from improvements in the housing market and overall economy.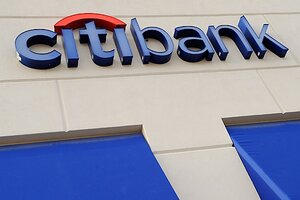 Lisa Poole/AP
It's an anomaly of the great credit bust. Big banks in the US are reporting profits even as their borrowers are going into foreclosure at a record pace.
The stark disconnect came into the spotlight Thursday. The number of foreclosure filings rose 5 percent in the third quarter to a record level, RealtyTrac reported. The firm says foreclosure-related actions occurred on 1 in every 136 US housing units during the quarter.
Meanwhile Citigroup, a banking behemoth that has received massive federal support during the financial crisis, reported net income for the quarter of $101 million.
How is this possible? It's an important question for the economy, but it also has political implications.
Many voters see banks getting bailouts while efforts to help ordinary households appear weaker or less effective.
Banks did rank higher on the bailout pecking order, financial policy experts say, and that's one explanation for the mismatch between home loans and bank profits.
But the story is more nuanced. The overall housing market has made progress this year, and home prices are no longer in a free fall – something that benefits millions of homeowners as well as banks.
"Evidence is building that financial markets are stabilizing and the American economy is starting to grow again," Sheila Bair, chairperson of the Federal Deposit Insurance Corp., told a Senate hearing this week. But, she warned, "significant credit distress persists" for banks and households alike.
Citigroup still has lots of bad loans to work through. Its credit losses totaled $8 billion for the quarter, down from $8.4 billion in the second quarter.
---