Raj Rajaratnam, arrested for insider trading, also linked to Sri Lanka case
Raj Rajaratnam, who was arrested Friday for insider trading in the US, is also linked to a money-transfer case in Sri Lanka.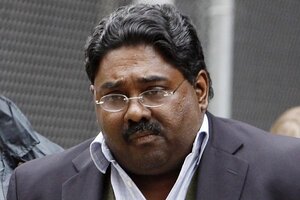 Brendan McDermid/Reuters
The world's 559th wealthiest individual and hedge-fund owner, who was arrested in New York Friday for insider trading, is not just in trouble with US authorities. Raj Rajaratnam, founder of the Galleon Group, is also connected with an indictment against a Sri Lankan member of Parliament and two others, according to the Daily Mirror of Sri Lanka.
The MP and his two accomplices were indicted for depositing $3 million in a private Sri Lankan bank without informing the nation's central bank, a violation of Sri Lanka's banking rules. According to the indictment, $1 million of the funds came directly from Galleon on Dec. 22, 2006, and $2 million were deposited by Mr. Rajaratnam on Jan. 3, 2007. The funds were intended to purchase shares in the Union Bank of Sri Lanka, according to the Mirror.
Rajaratnam,, a Tamil born in Colombo, Sri Lanka, and widely regarded as a Wall Street wonder boy for perpetual returns over 10 percent, was not indicted in that case. The trial, scheduled to begin Sept. 25, has been postponed until February.
In the US case, federal investigators closed in on Rajaratnam through a series of wiretaps. Authorities say that the case against Rajaratnam and five codefendants is the largest ever against a hedge fund.
---