Raj Rajaratnam of Galleon Group arrested in insider trading case
Billionaire Raj Rajaratnam, a partner at hedge fund Galleon Group, is among six nabbed in latest Wall Street scandal.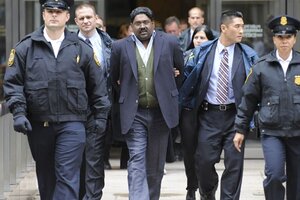 Louis Lanzano/AP
Federal authorities have uncovered what they say is the largest case of insider trading ever at a hedge fund – netting an alleged $20 million in illegal profits.
The case centers around billionaire Raj Rajaratnam, a partner at hedge fund Galleon Group. The Federal Bureau of Investigation arrested him on Friday in New York along with five others tied to the case.
It's the latest hit to the reputation of Wall Street, which has also been shaken over the past year by the Bernard Madoff scandal, other Ponzi schemes, and the whirlwinds of controversy surrounding the broader crisis in America's banking system.
Hedge funds have been touted in recent years to wealthy investors and pension funds as a new "asset class," to be tapped alongside traditional stocks and bonds. Often they rack up solid returns while carefully hedging their bets (hence their name). But they are also secretive, insular, and little-regulated.
Authorities said the arrests Friday show they are pursuing fraud at high levels of Wall Street with the same determination, and the same tools, that they use on drug lords or mobsters.
"This case should be a wake-up call for Wall Street," said Preet Bharara, US Attorney for the Southern District of New York, who announced the arrests along with the FBI. "It should be a wake-up call for every hedge fund manager and every Wall Street trader and every corporate executive who is even thinking about engaging in insider trading."
---