Extending home-buyer credit: another clunker?
Congress wants to extend the $8,000 home-buyer credit. Critics say it's not that helpful and mostly benefits home sellers.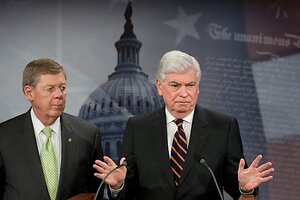 Harry Hamburg/AP
Congress is moving to extend a tax credit for home buyers, but the move is no cure-all for a troubled housing market.
Economists say the $8,000 credit for first-time buyers, enacted earlier this year, has exerted some upward pressure on home prices and revved up the pace of sales.
At best, however, it's just part of the fix for housing.
On Wednesday, key members of the US Senate agreed to extend the existing tax credit for first-time home buyers and offer a smaller credit to repeat buyers who have owned homes for at least five years. The measure, backed by Senate Majority Leader Harry Reid (D) of Nevada, would offer the credit through next April.
Leaders in the House of Representatives have also said they support extending the credit, which may cost about $10 billion.
Congress is moving at a time when the housing market has been showing tentative signs of stabilization, but also amid worries that demand for homes will cool when the current tax credit expires at the end of November.
Supporters say extending the credit will bolster demand and further stabilize home prices after a historic drop. But critics want to see the housing market find a genuine equilibrium, not one with prices propped up by taxpayers.
"Home sales have picked up this year. Why? ... The biggest stimulus to home sales this year has been the drop in the prices of these homes," argues economist Paul Kasriel in a written report for the financial firm Northern Trust Co. in Chicago.
---