Four financial innovations for a new generation
While financial innovation is often associated with nearly toppling the international economic system, some entrepreneurs are preparing a different breed of financial tools.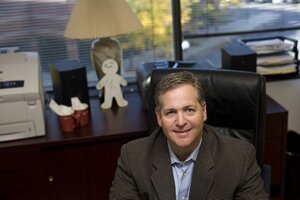 Sarah Beth Glicksteen/The Christian Science Monitor
For much of the 1990s, Syracuse, N.Y., was in a slump. Major employers closed up shop. Residents trickled away. Home values fell by more than 20 percent.
Then, in 2000, federal officials, academics, and a local nonprofit group stepped in with a solution: Homeowners could purchase what amounted to insurance against future price declines for a one-time fee of 1.5 percent of their home's value.
Then prices stabilized – probably because of some slight improvement in the local economy.
The insurance might have kept some Salt City residents from panicking, too. Of the more than 130 homeowners who purchased the protection, no one has yet filed a claim.
"It's one of the few cases out there where providing the insurance makes the insurance less expensive," says Barry Nalebuff, a professor of management at Yale University in New Haven, Conn., who helped design the program.
In the aftermath of subprime mortgages and credit default swaps, investors might be excused for equating financial innovation with Wall Street shenanigans. Yet it is precisely those highly destructive missteps that are causing a new generation of innovators to find opportunities to give investors more ways to protect their portfolios, more oversight over the stocks they own, and more socially responsible avenues for their money.
---