Pew report: nine states join California in facing fiscal crisis
Ten states from Arizona to Oregon now face a fiscal crisis, says a Pew report. Some economists say additional stimulus is needed to soften the economic impact of impending state budget cuts.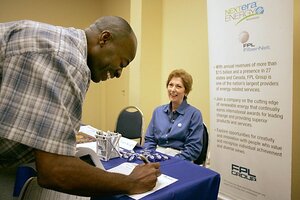 Joe Skipper/Reuters
The "great recession" may be over, but its impact on state governments is still unfurling – and could threaten America's fragile economic recovery.
That message emerged in two assessments of the economy Wednesday.
The Pew Center on the States released a report concluding that nine states have joined California in a condition of "fiscal peril." Their budget troubles could cause a round of job cuts and tax hikes in states from Florida to Illinois and Oregon.
In a separate news briefing Wednesday, Iris Lav, a fiscal policy expert at the Center on Budget and Policy Priorities, warned that state budget cuts could cost the economy 900,000 jobs in 2010.
"The problem is coming to a head now," Ms. Lav said. "State tax receipts are plummeting."
In her view, another round of federal aid to states is needed to fill a portion of their ongoing budget hole. States were major aid recipients under President Obama's stimulus package, the American Recovery and Reinvestment Act of 2009. That money will essentially run out at the end of next year, and states are already grappling with how to balance their budgets for the 2011 fiscal year, which covers the 12 months starting July 2010.
---