America's 'shadow economy' is bigger than you think - and growing
The informal, or 'shadow,' economy is as big as $1 trillion. And in poor economic times, it's growing.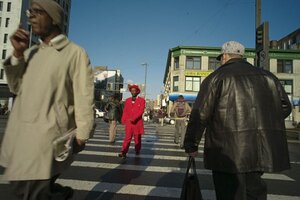 Scott J. Ferrell/Congressional Quarterly/File
NEW YORK — A white sheet of paper tacked to a fence outside a Harlem church has one line written on it: Carlos lite-mover – mudanzas. It has a drawing of a truck and a phone number.
A man's voice answers the number. Yes, he'll use his truck to move people's belongings. It's a way to earn some cash. Is this a registered business he reports for taxes? No answer. He quickly hangs up.
Inside the church, a moseying custodian says certainly, many of the women who come to the Thursday night meeting have informal businesses. They sell food and makeup from their homes.
A grandmotherly woman with a sweet smile arrives. "No," she says, that's not true. She quickly shakes her head with a furrowed brow.
Pinning down the informal economy is as tough as catching a fake Louis Vuitton vendor running from the police. But it's huge in the United States – larger than the official output of all but the upper crust of nations across the globe. And, due to the recent recession, it's growing.
Whether that's good or not depends entirely on one's point of view. The rise of the informal economy is either the flourishing of entrepreneurship among America's poorest or a drag on legitimate businesses that play by the rules. Here, on Harlem's Malcolm X Boulevard, you can find both.
---