Why Obama makes little headway balancing US-China trade
China's growing economic clout and its role as lender to the US means Obama has less leverage to press for changes to US-China trade.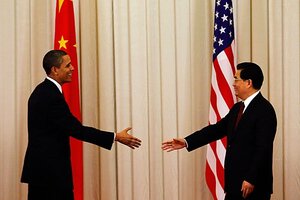 Ng Han Guan/AP
President Obama stood side by side with China's President Hu Jintao Tuesday, but they weren't seeing eye to eye on economics any more than on Afghanistan or Tibet.
Both the US and Chinese economies felt the squeeze of recession. Yet neither of the world's most powerful economies seems to have changed their ways.
The US is still running a huge trade deficit and borrowing lots of money from China.
China is still racing to expand its high-tech manufacturing exports, and as part of its strategy is fixing its currency at what many economists believe is an artificially low level. A cheap yuan can help to make Chinese products more attractive on world markets.
One sign of the times: America's industrial capacity – the nation's ability to produce goods – has been falling for 10 straight months, says Charles McMillion, chief economist at MBG Information Services in Washington. China isn't the only reason for the trend. But he notes that from 1948 to 2001, American industrial capacity never had a single month of decline – even though factory output would slump during recessions. That string was broken in 2002, the year after China won membership in the World Trade Organization.
---