New tale of Detroit's woe: Pontiac Silverdome sold for $583,000
Pontiac, Mich., sold the 80,300-seat Silverdome for $583,000 Wednesday. The former home of the Detroit Lions cost $55.7 million to build in 1975.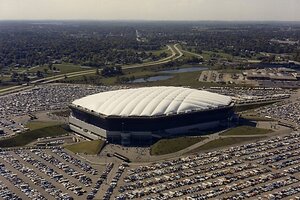 Business Wire
Ever want to own a domed football stadium?
The question was a plausible one Monday when it was announced that the Pontiac Silverdome — once home to the NFL's Detroit Lions — was sold for $583,000, or about 1 percent of the $55.7 million it took to build in 1975.
The Silverdome, an 80,300-seat stadium located in Pontiac, Mich., is the latest example of how comprehensively the recession has socked southeastern Michigan.
Mass layoffs and automotive plant closures have wreaked havoc on the local economy. Budget deficits are deep, foreclosures are widespread, and the population shrinking – from about 2 million people in the 1960s to about 900,000 today.
"It's certainly one of the most severe points in [the area's] history, because of the economic crisis and the falling housing prices," says Mark Skidmore, professor of economics at Michigan State University in East Lansing. "There's been a massive exodus and the ones who are left are those who, by and large, are [lower] income."
The foreclosure crisis started in the communities servicing the auto plants, but is now spreading to more affluent areas, says Jamele Hage, who is currently running a mortgage foreclosure program for Wayne County that counsels residents and works with lenders to renegotiate loans.
"We're not just talking about blue collar workers anymore, we're talking about well-paid, white collar professionals," she says.
This year in Harper Woods, located west of Detroit in Wayne County, property values fell 19 percent. City Assessor Gerald Owczarzak says he expects values to fall another 19 percent in 2010.
---