New Economy cities: A Seattle slew of advantages
With a vibrant entrepreneurial climate and deep pool of venture capital, Seattle capitalizes on high-tech, exports, and world health.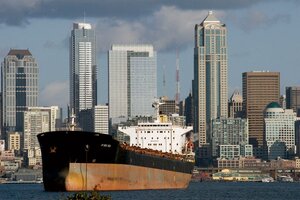 Mary Knox Merrill/Staff
In some ways, Seattle is the prototype city of the future. It embodies in one leafy landscape virtually all of the forces driving the New Economy – exports, an educated workforce, a vibrant high-tech base, a budding green-tech sector, and an enviable lifestyle.
One usually overlooked characteristic is how dependent it is on foreign trade. The flow of exports out of Puget Sound runs at about twice the national average. It now accounts for 1 in 3 jobs in the area.
"Look," says Sam Kaplan of the Trade Development Alliance of Greater Seattle, "our big companies are very internationally oriented. More than 70 percent of Boeing's sales are overseas, and 60 percent of Microsoft's sales are overseas."
That has paid off. Seattle has been growing at about twice the rate of the national economy since 2003, says Dick Conway, who publishes The Puget Sound Economic Forecaster.
Yet Seattle has more going for it than just 737s headed for Asian hangars. Experts say the city also benefits from a vibrant entrepreneurial climate, a deep pool of venture capitalists, and a genial tradition of collaboration. "We recruit not only from here, but from other places, too," says Jeremy Lewis, president and CEO of Big Fish Games, a digital-media company. "So it's not just a place where creative people are, but a place where creative people want to come."
---
Follow Stories Like This
Get the Monitor stories you care about delivered to your inbox.