Weather for Black Friday? Cold and a strong chance of shopping.
Retailers hoping for Black Friday crowds like wintery weather, which reminds people of the holidays. Meteorologists predict that's what they'll get on that big shopping day after Thanksgiving.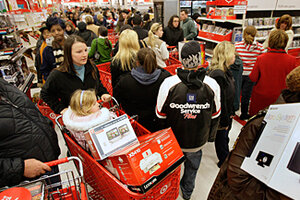 Amy Sancetta/AP/File
Get ready for winter.
Just in time for Black Friday, meteorologists are predicting the warm 50-degree November days are ending. Instead, think parkas, fleece-lined boots, and warming up the car before heading to the mall the day after Thanksgiving.
Indeed, the forecast for the holidays – right up to Christmas – is for colder than normal weather in the east, a normal chill in the Midwest, and lots of rain in the Northwest.
There are widespread implications of this relatively abrupt changing of the seasons.
Retailers in the Northeast are likely to cheer the kind of weather that makes shoppers think about the upcoming holidays instead of a last round of golf. Energy companies may start to see real demand for their home heating products. And mayors in the Northeast may start to get snow removal crews ready to scrape the white stuff from the roads.
Retailers are particularly cheered by the news.
"It puts consumers in the right frame of mind in terms of the season," says Scott Krugman, a vice president at the National Retail Federation in Washington. "The last thing you want to have if you're a retailer in the Northeast is a 70 degree day – it keeps people out of the stores."
---