Bernanke speech: financial stability is returning
The actions of the Federal Reserve and other policymakers have helped 'pull the economy back from the brink,' according to the Bernanke speech. One sign: The cost of last year's bailouts is coming in lower than some forecasters had predicted.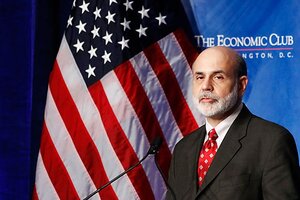 Haraz N. Ghanbari/AP
It's welcome news for US taxpayers: The cost of the great bailouts of 2008 is coming in smaller than some forecasters had predicted.
Exhibit A this week is the financial rescue program called TARP – the $700 billion Troubled Asset Relief Fund. The money paid out in loans or investments to banks and other corporations is being paid back faster than expected, the Obama administration says. Although the US Treasury still expects a loss rather than a profit from the program, it now predicts that the 10-year cost will be no more than $141 billion, which would be $200 billion less than the administration predicted as recently as August.
The TARP turnaround is part of a broader trend. In some other areas of government, too, massive rescue programs are winding down as the storm clouds of financial crisis fade. Since March, the Federal Reserve has been able to downsize its support programs for investment banks, short-term business credit, and the insurance firm AIG.
"All told, the Federal Reserve's actions – in combination with those of other policymakers here and abroad – have helped restore financial stability and pull the economy back from the brink," Fed Chairman Ben Bernanke said in a speech Monday.
Two positives
That's positive in two ways. First, the programs have been successful in steering the economy out of a free-fall. Second, the direct cost of the bailouts to taxpayers appears to be coming well below the trillion-dollar estimates that some made earlier this year.
But it doesn't mean that the economy or taxpayers are totally off the hook.
---
Follow Stories Like This
Get the Monitor stories you care about delivered to your inbox.