Foreclosures fall, but banks bracing for next big wave
While November sees 8 percent fall in foreclosures, loan-modification programs mask the size of the problem.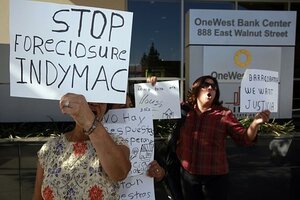 Damian Dovarganes/AP/File
In November, for the fourth month in a row, the number of foreclosure filings in the United States declined -- an 8 percent drop from October. But foreclosure experts aren't celebrating. They're bracing for the next wave of default notices, foreclosure auctions, and bank repossessions, which could hit early next year.
"We don't believe the underlying conditions have actually improved," says Rick Sharga, senior vice president with RealtyTrac, which released its report of foreclosure trends Thursday. Instead, state and federal efforts to help homeowners work out their problem mortgages are delaying foreclosures, he adds.
Even in a normal year, a third of these attempted workouts end up in default, he says. With high unemployment, tight credit, and depressed housing prices, this period will see much higher failures of workout plans, mortgage experts say.
For the moment, the number of foreclosures continues to fall. In November, the total fell to less than 307,000, the fourth monthly decline in a row after peaking at 360,000 in July. That's the lowest monthly level since February and, on the surface, represents particularly good news for Nevada.
---