What do we really learn from a crisis?
The 1980's farming bubble taught some hard truths. Did they stick?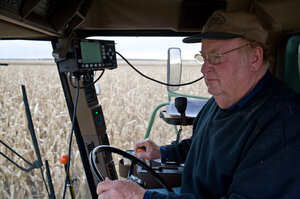 Stephen J. Carrera/Special to the Christian Science Monitor
Douglas Harford had no crystal ball. He had no special insight into exotic mortgages or the shaky securities that backed them. But from his corn-and-soybean farm in Mazon, Ill., he saw the housing crash coming.
He could see it because, as a young farmer in the 1970s and early '80s, he had seen firsthand the twin temptation of easy money and soaring real estate prices, the giddy expectation of unrelenting prosperity, and the bust that follows boom. "The best learning experience I had was the 1980s," says Mr. Harford.
Scarcely remembered in the rest of America, the '80s farm crisis is seared into the memories of older farmers and rural lenders. It taught hard lessons about prudence, restraint, the dangers of debt, and the importance of sticking to old principles of thrift and caution even when everyone else is profiting by abandoning them. Many in farm country say the crisis of the '80s has made agriculture stronger today.
In the coffee shops and bankers' offices, co-ops and equipment dealerships of rural America, many people see in today's economic troubles a reflection of that crisis a generation ago. They wonder if Americans will learn the lessons that they learned then. But they also know that even lessons painfully learned are easily forgotten. That was another lesson of the '80s farm crisis. How long, some ask, will the lessons of America's "great recession" stick around before they, too, begin to fade?
Lesson 1: Everything comes and goes.
---