Meet the new mobile shopper: Smarter phones, savvier spenders
Mobile shopping is growing fast. Will it change the way you shop?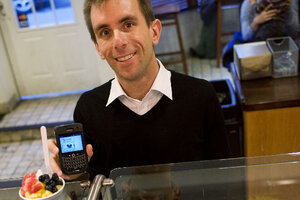 Sarah Beth Glicksteen/The Christian Science Monitor
Adam Forrest had no intention of buying anything on Black Friday, the traditional big shopping day that follows Thanksgiving. But when his smart phone buzzed as he lounged around the Long Island, N.Y., home of his future in-laws, he saw an offer he couldn't refuse: free monogramming and shipping on glasses he had wanted as gifts for the groomsmen in his upcoming wedding.
Tapping on his iPhone, Mr. Forrest bought the glasses. A week later, they were on his doorstep. Forrest is one of the rapidly growing number of mobile shopping fans.
"I'm able to do it while I'm sitting in the front seat of a car and talking to my fiancée about what we want from Pottery Barn," he says. "I can look online at prices and compare."
The on-the-go technology bridges a crucial gap in the shopping experience. Until now, consumers had to choose whether to go to bricks-and-mortar stores or shop online. With mobile shopping, they can do both. In stores, they can compare the price on the store shelf with prices online. Online with a mobile phone, they can find which nearby store has the product available immediately.
"I think the real-time blend of online and stores nearby is inevitable," writes Scott Dunlap, founder of mobile shopping NearbyNow, in an e-mail. "Online will always compete better on price, nearby stores on service and immediacy. The always-connected consumer gets the best of both worlds."
---