Is the recovery in home prices stalling?
Case-Shiller index shows no monthly gain in home prices, although annual recovery continues.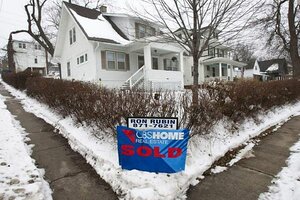 Nati Harnik/AP/File
After roughly nine months of improvement, the gains in home prices are weakening.
An index of 20 cities didn't rise from September to October, according to data released Tuesday by the S&P 500/Case-Shiller Home Price Indices (.pdf). While these unadjusted month-to-month changes are closely watched by Wall Street, the data when adjusted for seasonal variations was a little more encouraging. Measured that way, the monthly gain for October was 0.4 percent.
Nevertheless, many analysts are pessimistic about the direction of home prices in 2010.
"The turn-around in home prices seen in the spring and summer has faded with only seven of the 20 cities seeing month-to-month gains, although all 20 continue to show improvements on a year-over-year basis," said David Blitzer, chairman of the index committee at Standard & Poor's, in a release. "Coming after a series of solid gains, these data are likely to spark worries that home prices are about to take a second dip."
---
Follow Stories Like This
Get the Monitor stories you care about delivered to your inbox.