Alabama vs Texas in BCS championship game: Who has the best swag?
When Alabama and Texas players square off in Thursday's BCS championship game, they'll already have pocketed up to $500 in free stuff. But which bowl offered the best swag?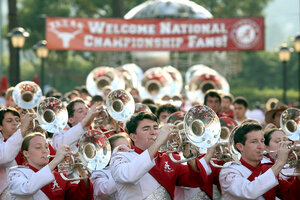 Newscom
You already know it's Alabama versus Texas in the vaunted BCS championship tilt, gametime 8 p.m.
What you don't know is that when the Tide clash with the Longhorns, both squads have already squirreled away several hundred dollars' worth of free goodies from the swag bags distributed by the BCS national championship.
And the nation's top two squads aren't the only ones bringing home serious loot. In fact, they don't even have the best haul.
That honor goes to this year's Sugar Bowl, which offered among other things a Lane recliner to each player and staff member of the Florida Gators and Cincinnati Bearcats. In addition, they received a Timely Watch Co. watch, a New Era baseball cap, an Ogio Politan laptop pack, and a trip through a "gift suite," where players could select from items like noise-canceling headphones, boomboxes, MP3 players, digital cameras, camcorders, PlayStation 3s, a Bravia LCD HDTV, an Apple iPod Nano, a Garmin GPS, or a Trek mountain bike.
---