Financial products that aid the poor and beat the market
Investors find a more profitable place to stash cash than banks. Bonus: It's also socially responsible.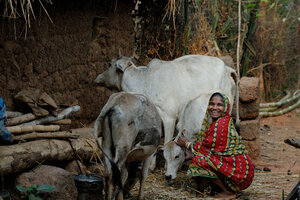 MicroPlace
For two years now, savers have had a tough slog. Rock-bottom interest rates have meant nominal returns for anyone holding extra cash. But those who believe their spare dough ought to do some good in the world have actually done better than their peers – a lot better in some cases. Low-risk, short-term commitments – supporting high-minded projects from affordable housing in the United States to microenterprise abroad – are generating enviable returns, sometimes as high as 6 percent.
"In these low interest-rate environments, there is an opportunity for people to get average or better than average returns in some socially responsible investment choices," said Doug Wheat, a financial planner at Family Wealth Management in Holyoke, Mass. "In high-rate environments, [a 3 percent return] seems low. But in low-rate environments, that seems pretty good."
A combination of factors, including a new microfinance model and minimal competition from major banks, is enabling mission-focused institutions to offer superior deals and become cash magnets. In the process, they're attracting the likes of Richard Frisbie, a Purdue University administrator with a penchant for strong rates of return and a low tolerance for risk.
---