Haitian earthquake relief gets corporate boost from likes of Google, Wal-Mart, GM
Corporations from across economic sectors including Google, Wal-Mart, Wells Fargo, and GM are donating to Haiti's earthquake relief.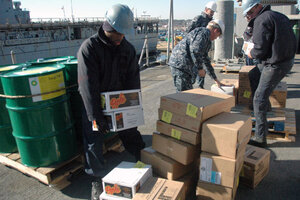 Rafael Martie/NVNS/Rapport/Newscom
American corporations from Google to GM are chipping in with donations to the relief effort in earthquake-stricken Haiti.
Wal-Mart is the largest American donor so far, giving $1.2 million to the Red Cross, according to data compiled by the United Nation's Office for the Coordination of Humanitarian Affairs (OCHA),
Google, the UPS Foundation, and Lowe's have each offered $1 million. Even companies subsisting on or recently supported by government loans have contributed, including General Motors and Wells Fargo at $100,000 apiece.
A spokesman for GM, which recently made its way through a rapid bankruptcy proceeding and is still paying back government loans, says the group has a long history of making donations in emergency situations.
"We're making our way back. We've said we'll repay the loans by the middle of the year," says Alan Adler, GM spokesman. "We're running a business, and part of being a business is being a good citizen."
---