How does Conan O'Brien's severance stack up on Wall Street?
NBC's $40 million severance to Conan O'Brien is worth 15 lifetimes of work for the average American. But it's no lollapalooza on Wall Street.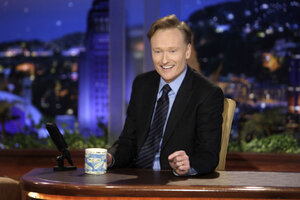 Paul Drinkwater/AP/NBC/Newscom/File
"People of Earth," Conan O'Brien might begin his next press release. "NBC is going to cut me a check worth more – much more – than you will make in your lifetime."
His reported $40 million settlement in severance pay does represent an unearthly sum. It's worth:
•About $8 million more than what the United Kingdom, the second-largest state donor, has given to Haitian relief efforts so far;
•Nearly 15 times what the average American college grad can expect to make over 40 years of full-time employment.
That's not bad. Mr. O'Brien, host (for now) of the Tonight Show, is getting the settlement because NBC decided to move comedian Jay Leno out of prime time and into O'Brien's 11:35 p.m. slot. O'Brien refused to move to 12:05 a.m.
But how does a $40 million Conan stack up in the big leagues?
If by big leagues, you mean sports, then it's hard to top a Conan. Former Denver Broncos coach Mike Shanahan was set to make $20 million between 2009 and 2011 after he was fired by the Broncos in December 2008. (When he recently signed on to lead the Washington Redskins, the terms of his contract allowed the Broncos to cut that payment in half in 2010 and 2011.)
---