Graco stroller recall: Is your Graco stroller affected?
Wednesday's Graco stroller recall of 1.5 million units is the largest in US history. Here's how to find if you have a problem stroller.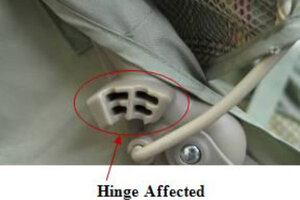 US Consumer Product Safety Commission
The US Consumer Product Safety Commission announced a Graco stroller recall Wednesday that will total 1.5 million strollers. The recall concerns uncovered hinges on the canopy of the Graco Passage, Alano, and Spree strollers, which have caused seven severe injuries to toddler's fingers, according to the CPSC.
The strollers in question were sold between October 2004 and February 2008 at several dozen retailers including Target, Wal-Mart, Babies "R" Us, Toys "R" Us, Kmart, and Sears. The strollers cost between $80 and $200.
If you bought a Graco stroller during that period, check the stroller's model number against the chart at the bottom of this page or check out the CPSC's news release. (You can find the stroller's model number and manufacture date on the lower inside portion of the rear frame, just above the rear wheels.)
---