Top Super Bowl commercials 2010? Nope. Here are the five worst.
Every year, people rate the top Super Bowl commercials. In 2010, here are the bottom 5.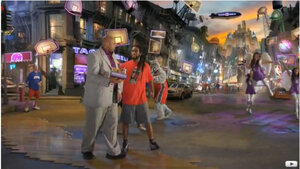 YouTube Screen capture
There were definitely a few great Super Bowl ads. And then there were ... the rest.
Judging from viewers' votes on Hulu this morning, many ads got split reactions. The much-publicized Tim Tebow Focus on the Family ad, for example, garnered the most "dislike" votes but tied for seventh in "like" votes through mid-morning Monday.
For an advertiser, that's typically a good thing: Your message got seen.
To make our bottom five, you've got to have more than just a lot of negative feedback. The spot in question must have truly put advertising dollars into a crash-and-burn television moment. Thus, bland spots – Roundup Weedkiller, anyone? – don't make the cut.
Without further delay, then, the lowest of the Super Bowl Sunday low.
5. Vizio Forge
Beyoncé, zombies, ninjas, and Twitter, all mixed in a strange techno-gullet of steel. For a minute-long spot, you spend the first 55 seconds or so confused as to what exactly it is that you're supposed to be looking at. Then you don't really care.
4. Taco Bell 'It rocks'
---