US economy adds 290,000 jobs in April as recovery gains traction
The 290,000 jobs were spread across every sector of the US economy, the Labor Department reported Friday. Job-market recovery led more people to resume looking for work, driving up the unemployment rate to 9.9 percent.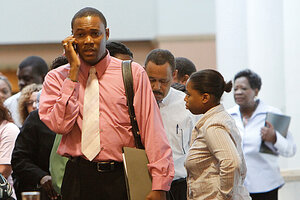 J. Pat Carter/AP
The US economy added 290,000 jobs last month in a sign that a job-market recovery is gathering strength.
April's job gains come as job numbers for prior months were also revised upward. In all, nonfarm employers have added 573,000 jobs since December, with 483,000 of those coming in the private sector and the rest in government.
"You have more people working more hours, earning higher wages," says Ken Mayland, president of ClearView Economics near Cleveland. "I don't think it will stop here. We're going to continue to cyclically evolve to even greater job creation as this year unfolds."
The Labor Department reported job gains across virtually every sector of the economy in April, from manufacturing to various services.
Still, investors focused Friday on concerns beyond the positive labor news. Stock markets skidded again in the morning, amid concerns about a European debt crisis, the uncertain outcome of British elections, and trading glitches that caused an enormous gyration in share prices Thursday. Investors had also been expecting the pickup in jobs, although the gains exceeded forecasts.
---