Can electric cars break out of niche status in US, China market?
Despite a surge in interest, electric cars may remain niche products in the world's two largest auto markets. Advocates disagree.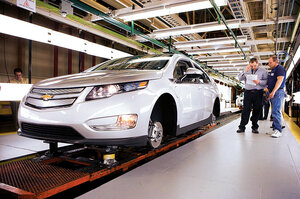 Reuters
Interest in electric cars is surging:
•Nearly 52,000 people were wait-listed as of mid-April for General Motors' electric model, the Volt, due in November. As of March, almost 56,000 people had signed up to reserve Nissan's all-electric Leaf, due in dealerships by December.
•In China, leading automakers BYD and Chery have announced plans to roll out their own electric models within the next two years.
•Investors, too, are excited. Electric-car ventures made up nearly 40 percent of $1.9 billion invested in 180 green-technology companies worldwide in the first quarter of 2010, according to a study by the Cleantech Group and Deloitte.
Yet in the United States and China, automakers' caution, weak price incentives, and concerns over the electrical grid are slowing the electric car's introduction. If electric cars can't break out of niche status in the world's two largest passenger car markets, then a transition away from gasoline-powered vehicles could be delayed. And many would-be buyers are likely to be frustrated by the lack of available cars. "There is undoubtedly going to be a backlog, where demand exceeds production for the next few years, due to the trepidation of the automakers that the electric car is not something consumers want," says Marc Geller, cofounder of the advocacy group Plug In America.
Take the 56,000 people who have signed up for a Leaf. Nissan is planning to start deploying it in only five states. Total cars initially available: 4,700.
---