After Bernie Madoff, knowing who to trust with your investment funds
When the Bernie Madoff affair shocked the nation, investors began wondering who they can trust. What matters more in an investment manager: the quality of an individual or the institution? How the pros pick who to trust with their investment funds.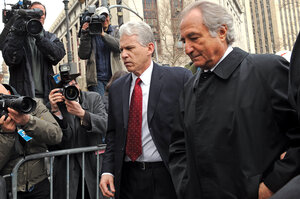 Louis Lanzano/AP/File
Rusty Leonard and Mark Regier have a lot in common. Both are investment industry professionals, evangelical Christians, and believers in working only with trustworthy business partners.
They differ, however, in one area: how to figure out who can be trusted with their investment funds – and who can't – a talent that could have been put to great use before the Bernie Madoff affair. The question seems to grow more critical with every scandal, fraud, and high-profile disappointment from a CEO.
In today's business world, investment managers say, skill in discerning character is every bit as important as being able to decipher a balance sheet or earnings report.
But how does one do it?
Mr. Leonard relies in part on indicators of executives' character to judge whether a company is in good hands. Portfolio managers at his money-management firm have sold stock on at least two occasions because the CEOs were leading flashy lives, cavorting with multiple women, and demonstrating an apparent lack of moral values.
"If you know that a guy is divorced three times, so on and so forth, then you see how he acts," says Leonard, founder of Stewardship Partners in Matthews, N.C. "Parties that cost $2 million and that sort of thing – if you knew about that stuff, then obviously you [as an investor] would run for the hills.... The Lord says, 'He who exalts himself will be humbled.' And if [a CEO] gets humbled, I don't want to be part of that process."
---