Foreclosure crisis phase 2: The negative equity dilemma
Many prime borrowers are being caught between devalued homes and job losses. Will Congress step in?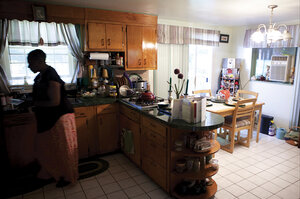 Taylor Weidman/The Christian Science Monitor
For almost a quarter century, Cynthia Johnson, a Boston homeowner, has paid the mortgage on her three-bedroom single-family house on time.
But in July, for the first time, she'll miss a payment.
"I'm on [the bank's] doorstep at this point, saying, 'The savings are gone. I can't pay you as promised,' " she said.
Unless something changes, Ms. Johnson (not her real name) is set to join the nearly 2.4 million Americans with prime loans seriously delinquent on their mortgages. They are the new face of the housing crisis. Unlike subprime borrowers, most of these homeowners did everything right. They bought houses they could afford and used standard mortgages. But falling home prices and a protracted recession have pushed them into a classic squeeze: They can't keep up their mortgage payments because someone in the household has lost his or her job. They can't sell because they owe more than the home is worth.
"In the next 12 months it's going to be tragic – most people are just starting to fall behind now," said Avi Liss, a lawyer helping homeowners avoid foreclosure in the Boston area. According to the Center for Responsible Lending, a nonprofit research and policy group, as many as 9 million homeowners could go into foreclosure between 2009 and 2012.
---