Consumers holding back on spending – and that's a good thing
Consumer spending is still low, but that's not so bad. Savings rates are inching up, and they are a key to economic stability.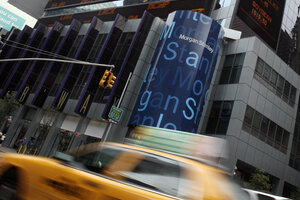 Richard Drew/AP
US consumer spending failed to rise in June, but in one sense that is good news.

Because Americans didn't earn any more income in June than in May, their hesitancy to expand spending represents a "new normal" that's more like the "old normal."

Once again, it's in fashion for many households to save a chunk of the pay they take home each month. In June, America's personal savings rate edged up slightly, to 6.4 percent of disposable income, according to the Commerce Department in a report Tuesday. Personal income and spending were essentially flat for the month.

For years, an unusually low rate of savings has been a trouble spot. It's a problem both for families and for the economy at large. It means many households are poorly prepared for emergencies or for retirement.

And it means that the nation has fewer domestic resources available to finance growth in the economy. Economists say that America's penchant for borrowing from other nations, and for importing more than it exports, are to some degree side effects of a low savings rate.

Seen in that light, a rising savings rate is one step toward putting the nation on a sounder footing for stable growth in the years ahead.
---