Unemployment extension 101: Why now is a good time for temp jobs
New federal unemployment extension benefits removed penalties for many people working temp jobs. What are the hottest temp jobs? Do they offer medical? We answer your questions.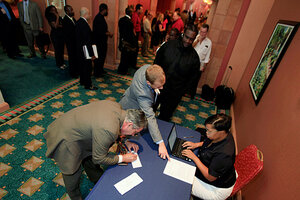 Lynne Sladky/AP
It could be a good time to head to the fields to help farmers pick corn. Or maybe find a small business in need of seasonal help.
Until recently it probably wasn't the best financial idea for anyone collecting federal unemployment extension benefits to seek temporary work. Doing so may have meant receiving a lower level of unemployment benefits in the future.
But President Obama eliminated that potential penalty with the Emergency Unemployment Compensation Fix (EUC Fix) when he signed the latest unemployment benefits extension bill on July 22.
Here are some questions relating to the new change and the issue of temp work:
Do employment specialists think it's a good idea to take a temp job?
Anyone who has been out of work for six months or more should consider a temp job, says John Challenger of Challenger Gray & Christmas, a Chicago outplacement firm.
"It's not healthy just sitting around at the computer waiting for a job," he reasons. "Getting back to work is rejuvenating," he says, adding, "It's a good way to show you are filling in the gaps while unemployed."
Pamela Garber, a New York psychotherapist in private practice, often recommends that her clients do temp work in between jobs or making a career change. She says it can give an individual "a forward thought process" by having new challenges. And, she says in an email, they get to learn about different companies "via the front row."
In fact, according to Tina Chen, director of operations for Carlisle Staffing in Westmont, Ill., many companies view temps as trial employees.
---