Trade deficit rises faster than expected: How worrying is that?
The US imported $49.9 billion more in goods and services than its exported in June, up from $42 billion in May. Such a large trade deficit is unsustainable and a drag on the economy, experts say.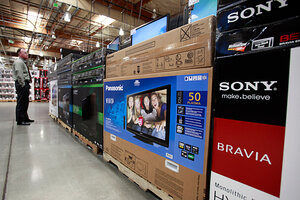 Paul Sakuma/AP/file
Sagging exports and a rise in imports pushed the US trade deficit up sharply in June – an unwelcome development during an already-weak economic recovery.
In all, imports exceeded exports of goods and services by $49.9 billion in June, up from $42.0 billion in May, the Commerce Department reported. That was a significantly wider trade deficit than economists had predicted for the month and the widest trade gap the economy has seen since the financial crisis deepened near the end of 2008.
Last year, imports and exports were rebounding in tandem from recession low points. This year, the revival of imports has continued – led by consumer goods from Asia. But export growth has ground virtually to a halt.
That's occurring even though President Obama has set an ambitious goal of doubling US exports within five years, a target designed to bolster US job creation. The new trade numbers confirm that the goal won't be easy to reach.
June's export dip encompassed products ranging from soybeans to aircraft parts, computer chips, and steel products.
"The [trade] deficit has trended higher as the economy has recovered, and a return to the narrower deficits of a year ago does not look likely, at least not in the foreseeable future," economists at Wells Fargo Securities wrote in an analysis of the new numbers.
---