Top Chef winner makes his mark in tough industry
Top Chef winner Kevin Sbraga has a job, but his fellow chefs face a hard time finding one.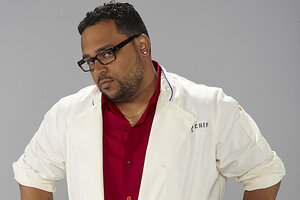 David Geisbrecht / Bravo
Kevin Sbraga, executive chef at Rat's Restaurant in Hamilton, N.J., won the season finale of Bravo's Top Chef: Washington D.C. Wednesday night, garnering accolades and lots of Twitter attention for his dessert version of a Singapore Sling.
But when the studio lights fade and the attention turns elsewhere, Mr. Sbraga returns to an industry whose future looks far less bright. Becoming a full-time chef in America is a tough business and getting tougher.
In the past decade, 23 percent of US chef jobs have disappeared. That leaves about 100,000 chefs toiling in mostly high-end restaurants or country clubs.
Average pay? Only $44,000, according to the Bureau of Labor Statistics (BLS).
Why aren't there more top chef jobs? Consumer habits are changing.
"High-end restaurants will always have their audience," says Andrew Abelman, president of Le Cordon Bleu, a culinary institute in Cambridge, Mass. But "some people are shifting down. Where they might have gone to an upper-class steakhouse like Morton's, they move down to a Chili's or Applebee's. And people who would have gone to Chili's before might go to McDonald's now."
---