Fisher-Price recall is complex. Here's how to sort it out.
Fisher-Price recall involves four different products, 46 model numbers, and almost 11 million units.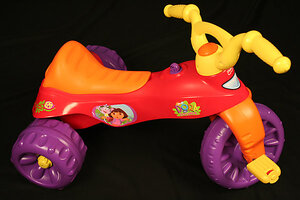 Consumer Products Safety Commission/AP/File
Fisher-Price Thursday announced one of the largest product recalls ever involving children's products, both in terms of sheer volume – almost 11 million units – and because four different types of products, with 46 different model numbers, were recalled the same day. The current list of recalled products is below.
The variety of products involved makes the Fisher-Price recall a little complex for parents.
If you own a Fisher-price tricycle, high chair, a Little People Wheelies Stand 'n Play Rampway, or any one of seven infant toys with inflatable balls, the recall may affect you. The products could cause young children to choke or injure themselves, the federal government says.
"If you're a kid, you don't want your toy to break, but if you're a parent, you don't want your kid to be chewing on a toy and find that they're choking on it," said Alex Filip of the Consumer Product Safety Commission (CPSC), the federal organization responsible for monitoring product safety and issuing recalls.
Here's what parents should do:
Check your product against the model numbers listed below. The model number can be found on the product itself.
CHECK HERE FOR PHOTOS OF FISHER-PRICE RECALLED PRODUCTS
If your Fisher-Price product is on the recall list, put it out of reach of children. Don't bother taking it back to the store you bought it from. Contact Fisher-Price instead, because it will send out replacement parts or repair kits to make the products safe.
Replacement parts and repair kits can be ordered through the company's toll-free number (800) 432-5437 (between 9 a.m. and 6 p.m. Eastern Time Monday through Friday) or online at this website.
---